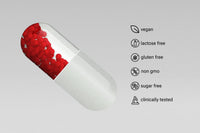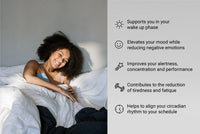 B・SYNC ON Wake-Up Capsules
Improved mood
More energy
No grogginess
Getting up in the morning has never been easier. B・SYNC ON is the world's first clinically tested wake-up pill, designed to support and improve your waking process and mood.
1 pack contains 20 capsules, 1 per day.
Our clinical studies suggest it can substantially help you after a single dose, though daily intake helps align your inner clock with your lifestyle.
1 - 3 business days, free delivery
YOUR BENEFITS
We've all experienced it. Waking up tired and moody, not ready to start the day. With B・SYNC ON, you never have to suffer that pre-coffee struggle again!

Supports you in your wake-up phase.

Elevates your mood while reducing negative emotions.

Improves your concentration, alertness and performance.

Reduces feelings of fatigue.

Helps to align your circadian rhythm with your schedule.
about the product
B・SYNC ON is consumed before going to bed but the caffeine, minerals and vitamins are not released. These core substances will only be released after a full night's sleep shortly before awakening. As a result, they positively influence your cortisol level and boost your natural wake-up process.

The perfect mix of safe and trusted ingredients to make sure you start the day off right. The unique combination of Caffeine, Vitamin B5 and B12 as well as Zinc work together to reduce tiredness and fatigue, boost your mental performance, sharpen your focus, and elevate positive mood.
All ingredients
Ingredients per capsule: Caffeine, Microcrystalline Cellulose Pellets, Calcium D-Pantothenate, Hydroxypropyl Methylcellulose, Anionic Methacrylate Copolymer, Zinc Bisglycinat, Polyvinyl Alcohol Polyethylene Magnesium Silicate Hydrate, Calcium Carbonate, Triethyl Citrate, Iron Oxide Red, Polyoxyethylene Sorbitan Monooleate, Monoglycerides and Diglycerides of Fatty Acids, Polyvinyl Alcohol, Methylcobalamin

Instructions for use: Swallow 1 capsule whole with half a glass of water before going to bed on an empty stomach. Do not chew or crush the capsule.

Disclaimer: Contains Caffeine. Not suitable for children and young people, or pregnant women. Dietary supplements are no substitute for a balanced and varied diet and a healthy lifestyle. Store in a cool and dry place.

Long term benefits
Our clinical studies suggest it can substantially help you after a single dose, though taking it regularly brings additional benefits. Find out what you can experience when you take B・SYNC ON regularly.
1 MONTH
Improved sleep quality
Improved mood
Better alertness
3 MONTHS
Reduced feelings of stress and anxiety
Promotes better sleep
Reduced risk of insomnia and other sleep disorders
6 MONTHS
Improved overall physical and mental well-being
More energy - fighting fatigue to feel fresh and energised
Synchronise your inner clock with your lifestyle and wake up with ease - when you want. Perfect for anyone wanting to control their sleep-wake cycle, whether you're a shift worker or a night owl trying to function in an early bird's world.
Safe and trusted ingredients
get your boost
Caffeine
reduces feelings of fatigue and supports mental performance and the natural functioning of the nervous system
60mg
Vitamin B12
reduces feelings of fatigue and contributes to natural energy-yielding metabolism, cognitive functioning and functioning of the nervous system
60mcg
Vitamin B5
contributes to the reduction of tiredness and fatique, to normal functioning of the nervous system, and to normal mental performance
5mg
Zinc
contributes to healthy cognitive functioning
5mg

How is B・SYNC ON different?
Unlike other sleep- and performance-enhancing food supplements, we focus on your inner clock. The target of our products is to help you reset and adjust your inner clock to your lifestyle. We achieve this with our innovative formulation, that releases active ingredients right when you need them.
Can I still drink my coffee?
Yes, you can. We know how important your daily coffee can be, and we assure you that you can still drink it without any worries. The amount of caffeine in the ON-Formula is equal to a cup of espresso.
Are there any side effects?
All ingredients contained in B・SYNC ON are safe. The European Food Safety Authority states that a total daily caffeine consumption of up to 400 mg is generally safe. So if you can drink an espresso, you can take B・SYNC ON. B・SYNC ON is not suitable for children as well as pregnant women or individuals with a hypersensitivity towards caffeine.
Is B・SYNC ON vegan?
Yes. Not only that, it's also gluten free, sugar free and lactose free, so you can take it without any concerns.
Does it have an effect on my sleep?
No. The core team who created B・SYNC ON has a scientific background in sleep sciences and is fully aware of the essential role sleep plays in the maintenance of a healthy mind and body. We have dedicated several years of research to develop B・SYNC ON's innovative formula so that it does not affect your sleep and only releases its ingredients after 7 hours so you can wake up with ease.
What is inside the capsule?
Our scientists have come up with the perfect mix of caffeine, vitamins B12 and B5 and minerals to make sure you start the day off right. Included in the core are microcrystalline cellulose pellets, caffeine, hydroxypropyl methylcellulose, cyanocobalamin, calcium d-pantothenate and zinc bisglycinate.